Experience style and performance with the Bosch Serie 2 MHA133BR0B Double Oven. This stainless steel built in oven is perfect for medium sized households, with expert heating and an easy to use interface. You'll love cooking with the MHA133BR0B.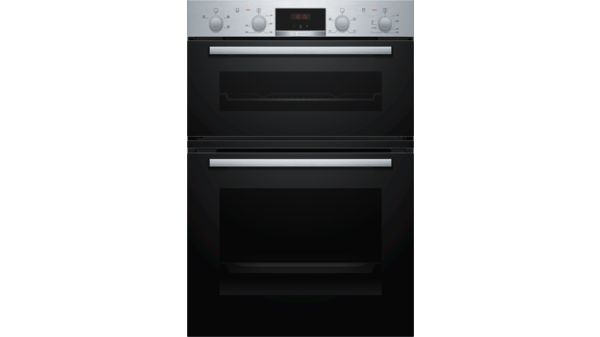 Effortlessly Brilliant Results
Whether you're a seasoned home cook or a novice in the kitchen, the MHA133BR0B can help you turn out perfectly presented, delicious dishes for you and your loved ones. Be it a Sunday roast or a special birthday celebration cake, this oven has everything you need to make it great.
Featuring Bosch 3D Hotair technology, you can forget about burnt edges and undercooked middles in your cooking. 3D Hotair continuously circulates air throughout the main oven cavity, ensuring an even distribution across all levels of the oven. So, whether you're cooking on the top, middle or bottom of the oven, you'll end up with the same great results. Ideal if you're batch cooking or preparing multiple dishes at once.
It also means you won't mix flavours. So each dish can speak for itself.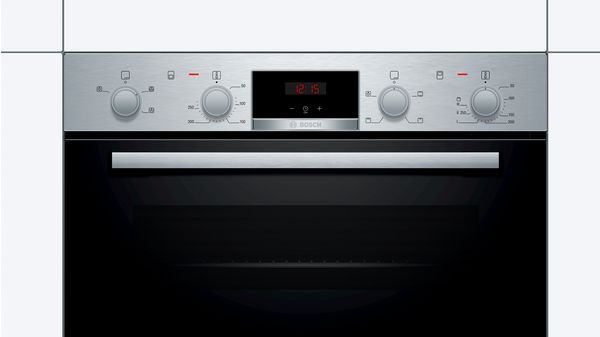 Cook the Way You Want
Both the top and main oven come with multiple heating methods. Allowing you to choose the right setting for whatever it is you need to cook. In the spacious 71L main oven, opt for 3D Hotair or Hotair gentle. While in the top oven, you get an additional 34L of space to play with. With three different heating methods. Extend your traditional cooking capacity with conventional top and bottom heating, or transform the oven into a large area or small area grill.
You can even use both ovens at the same time. How about grilling some delicious salmon while roasting the season's freshest vegetable offerings?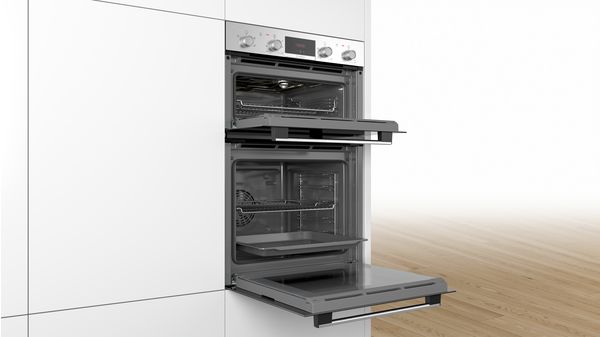 Simple and Straightforward Cleaning
Thanks to Bosch EcoClean Direct, cleaning your oven is no longer a tough chore. With a special coating on the lower oven's rear wall, grease and food particles won't get stuck or burned on. The special microfine ceramic spheres on the wall break down grease and food residue, using the oven's heat to prevent sticking. So, when it comes time to clean, all you have to do is wipe the inside of your oven with a damp cloth. This means not only will you be saved hours of cleaning time, but it will also help your oven last a lot longer too.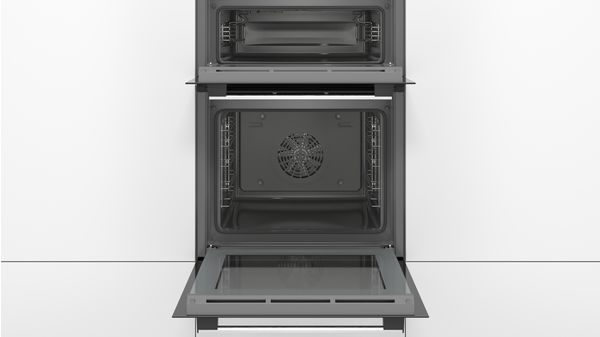 Easy to Use
Buyers love the MHA133BR0B because it is so simple to use. With clear rotary dial controls and a red LED display, getting to grips with your oven's functions is no hassle. The oven comes with bright interior lights, so you can easily keep an eye on what's cooking. And the straight bar handle makes opening and closing your oven door easy. There's even a handy control panel lock to keep your settings safe in case someone accidentally tries to alter them.
Order your brand new Bosch MHA133BR0B Double Oven online or by phone from Howards Electricals. We offer delivery and installation throughout Stoke-on-Trent. To learn more and to see product details, visit our product page, or give us a call to speak to a member of our friendly team.